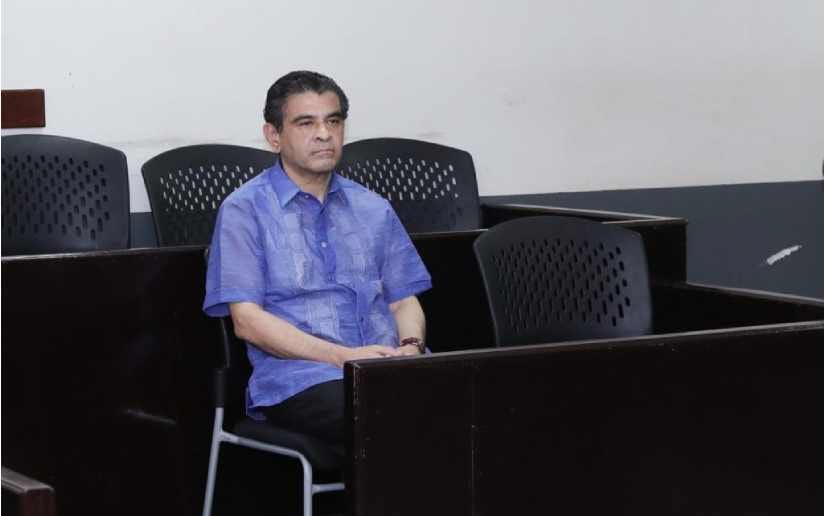 The 10th Criminal Court of Managua, Nicaragua, held Jan. 10 an initial hearing against Bishop Rolando Álvarez of Matagalpa, who is facing charges of "conspiracy against national integrity" and "propagation of fake news."
The court decided that Álvarez will face a public trial at an undisclosed future date, and will continue under house arrest in the meantime – even as human rights activists and legal scholars denounce the charges against the bishop as trumped-up, politically motivated, and meant to silence a sharp critic of the Daniel Ortega regime.
But while condemnations of Álvarez's treatment have come from both Nicaraguan and international figures, the country's bishops have made few public comments about the bishop's arrest and pending trial.
The silence has led some in Nicaragua to ask if an arrest designed to intimidate the country's bishops might actually be working, while others argue that the bishops have been quiet because of sensitive Vatican negotiations, which could eventually see Álvarez freed.
–
While Alvarez has been under house arrest since August 2022, other bishops in Nicaragua have been quiet about both the detention and upcoming trial of their confrere.
The website of the Nicaraguan bishops' conference has not published any statements since January 1, and no bishop in the country has issued any official statement about Álvarez.
For her part, human rights activist and lawyer Martha Molina from the Observatory for Transparency and Anti-Corruption told The Pillar that silence from Nicaragua's bishops has been noticeable in the country.
"They haven't said anything. There is sepulchral silence in the bishops' conference," Molina said.
Activists at the Nicaraguan Center for Human Rights have issued statements demanding the Nicaraguan bishops "break their silence on the abuses against Bishop Álvarez."
In a statement last month, the group focused on Cardinal Leopoldo José Brenes of Managua, whom the group has accused of both "remaining silent," and of "issuing messages that seem to cover for the regime."
But while human rights groups push for more from the country's bishops, it is possible that their low public profile is aimed at keeping additional persecution to a minimum while some solution is worked out for Alvarez — especially since the county's nuncio was exiled last year, leaving only diocesan bishops to spearhead negotiations with the government.
Last week, Bishop Carlos Herrera, president of the country's episcopal conference, told local news outlet Despacho 505 that the Holy See has been negotiating with the Nicaraguan regime regarding Bishop Álvarez.
"I can't tell you much because they are matters of state, but there is an ongoing process, dialogue with the Holy See, to clarify why they are accusing him."
Herrera's comments came after the Vatican's Dicastery for Bishops appointed Fr. Frutos Valles Salmerón as a temporary administrator of the Diocese of Estelí, where Bishop Álvarez had already been apostolic administrator, in addition to his permanent post in Matagalpa.
The move – a temporary replacement of a temporary leader - is unusual in the Church. It was likely made to provide for the needs of the diocese while avoiding any suggestion that the Holy See had given up on Álvarez.
"Fr. Frutos is appointed as coordinator of the pastoral ministry of the Diocese [of Estelí]. It cannot be called a substitution, but rather, since Bishop Alvarez cannot exercise physically now, due to his situation, Father Frutos is rather as coordinator, not as administrator," Herrera said.
According to local media, the move could also be part of the negotiation process between the Vatican and the country's bishops on one side, and the Nicaraguan regime on the other — with the Holy See demonstrating that it won't remove Álvarez from any leadership positions in the country.
But it is not clear what role Alvarez himself might have in negotiations, and what his voice could mean for any attempt at a mediated solution.
That could leave the Ortega administration and the bishops at a stalemate: while Ortega is aware of the political cost of jailing a bishop widely popular both in Nicaragua and abroad, Álvarez may force the issue, as he has reportedly refused offers that would allow him to leave the country in exile.
Bishop José Antonio Canales of Danlí, Honduras – who is considered to have in-depth knowledge of the church in Nicaragua and has received persecuted priests from the country – claimed recently that the options on the table for Álvarez - apart from jail - will probably not prove acceptable to the bishop:
"We suppose that this is the offer that [Ortega] has made to Bishop Álvarez: either he remains silent in Nicaragua, which he is not going to do because his character and his personality prevent it, or he goes into exile."
—
No matter the cause, while bishops in Nicaragua have been quiet, other voices have spoken out on behalf of Álvarez.
"In the political trial that the dictatorship of Daniel Ortega and Rosario Murillo maintains against the bishop of the Diocese of Matagalpa, Monsignor Rolando Álvarez, the formal request of his relatives to appoint a private defender has been ignored, leaving the hierarch in absolute defenselessness," Vilma Núñez,director of the Nicaraguan Center for Human Rights (Cenidh), said last week.
La Prensa, a Nicaraguan, which has faced criticism from the Ortega regime, published an editorial last week which said that Bishop Álvarez was a "martyr."
"It is an absurd accusation against a consecrated member of the Catholic Church, a person of prayer, dedicated to preaching peace, love and reconciliation to the Nicaraguan people; and to all the people of the world, because for Jesus Christ all people are sisters who must love or at least respect one another," the newspaper added.
"According to independent experts in law and criminal justice, the process against Monsignor Alvarez and seven other priests is only a formality to appear like justice. They say that the sentence against him has already been dictated before a trial. But let us hope that the experts are wrong," the newspaper's editors said.
📰
'The Pillar' covers news you won't read anywhere else. We do it intelligently and reliably, because our subscribers know good journalism is worth paying for. So subscribe today – or upgrade your subscription!
In Miami, the auxiliary bishop of Managua, Silvio Báez – exiled from Nicaragua since 2018 - condemned Álvarez's trial this week.
At a Jan. 14 Mass celebrating his 38th ordination anniversary, the bishop explained that:
"I live this anniversary with a bittersweet taste, because I think of my brother Rolando Alvarez who is imprisoned by the dictatorship in Nicaragua and I ask the Lord for the grace of his freedom, because he is innocent, and that he may be strong."
"I also pray for all the political prisoners in Nicaragua and in the other countries of Latin America," he added.
Experts and activists say that the judicial process against Álvarez has been marred by irregularities and, thus, there seems to be little likelihood that the regime and the Vatican might reach an agreement.
"This entire process against Bishop Álvarez is null and void from beginning to end because the guarantees of due process have not been respected," Martha Molina told The Pillar.
"He was not allowed the right to a defense even though there is already a request from his family to have a lawyer of his full confidence to represent him. Instead, in the preliminary hearing the judge imposed on him a public defender who are loyal employees of the dictatorship and who will never ensure the development of a fair and lawful legal process," she added.
On Dec. 19, Judge Gloria Saavedra refused Álvarez' petition to name his own lawyer, and instead appointed public defender Jennifer Hernández to the case.
Nicaraguan attorney and human rights activist Yader Morazán told The Pillar that Hernández was also appointed as the public defender of Leonardo Urbina, a Nicaraguan priest sentenced to 30 years in prison for sexual abuse, in a trial widely decried in Nicaragua as a political persecution.
Hernández had previously served as the secretary to the judge in that trial, Edén Aguilar, who has overseen the trial of several political prisoners in Nicaragua.
Moreover, Morazán told The Pillar that Judge Saavedra's appointment to the bench raises suspicion, because she was named a criminal judge in 2019 despite having no judicial experience, and only an administrative position in the court system.
Further, Álvarez was detained for 144 days before the preliminary hearing where charges were officially laid against him, even while the Nicaraguan criminal code allows a maximum of 90 days before such a hearing. The bishop's detention has been described as "house custody," while experts point out that there is no such concept in Nicaraguan law.
Some activists say that Álvarez has been kept away from his family, and that both his detention and the apparent start of his trial are likely a government effort to push the bishop to accept the prospect of being exiled, or to pressure the Vatican to directly order him to do so, as it did in 2018 in the case of Bishop Silvio Báez, who had received credible death threats.
Álvarez has become the best-known voice of the Catholic opposition against the regime of Daniel Ortega in Nicaragua.
Ortega has been accused of persecuting political opponents, rigging elections, and killing hundreds in protests that erupted in the country since 2018.
His regime started a crackdown against the Catholic Church in 2022, during which the Missionaries of Charity were expelled, and eight priests, three laypeople, two seminarians, and a deacon have been arrested. At least seven priests were exiled in 2022, but almost 50 priests are presumed to have left the country or be in hiding.
Álvarez sharply criticized last year the Nicaraguan government's order to shut down a Catholic TV station he oversaw and 10 radio stations operated by the Diocese of Matagalpa. Father Uriel Vallejos, who operated one of the stations from his parish, refused to give away the radio equipment, which led to a 48-hour siege of the parish. After Álvarez protested the siege, Nicaraguan police did not allow Álvarez to leave his residence while they claimed to be investigating him for allegedly inciting violence.
Álvarez was detained in the episcopal residence for two weeks along with four priests, two seminarians and two laypeople. After the standoff, the bishop and his companions were arrested Aug. 19, and all but Álvarez were sent to a high-security prison, called "El Chipote," where local activists claim that torture is commonplace. Álvarez was placed under "house custody."
No trial date has been yet announced for Álvarez.
Comments