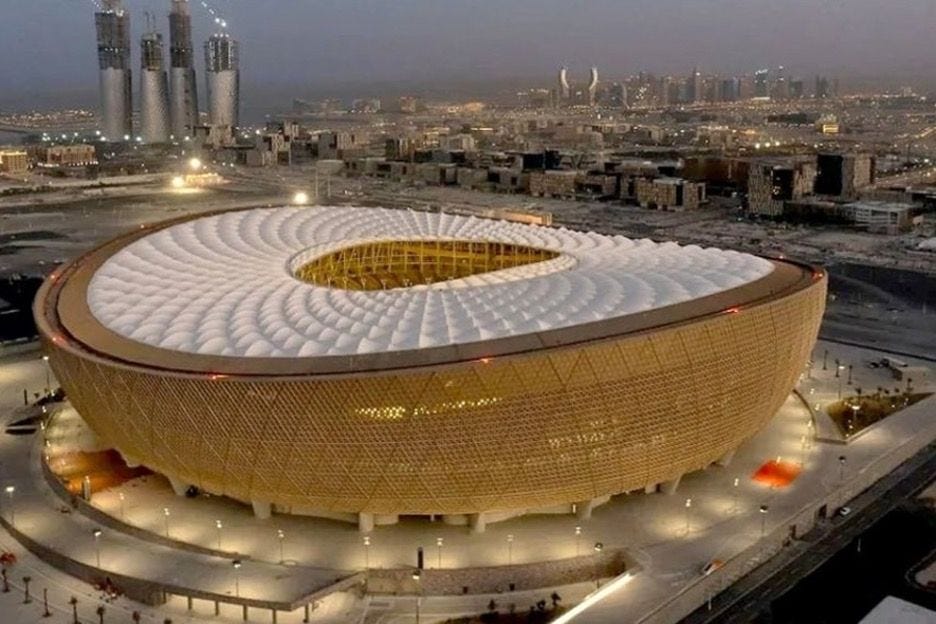 As soccer fans worldwide weigh whether to watch the World Cup in Qatar, which begins this Sunday, or boycott it in protest against human rights abuses, the Arab kingdom's local Christians will probably have other things on their minds.
As in many Muslim countries in the Arabian Peninsula, Qatar's Christian population is mostly comprised of migrant workers from developing countries. Construction of the massive infrastructure needed to host the World Cup rested on the hard work of hundreds of thousands of young men from countries such as India, Bangladesh, Nepal, Pakistan, the Philippines, and Egypt.
The Christian community reflects this variety, with believers regularly filling Latin Catholic, Syro-Malabar, Syro-Malankara, and Coptic churches for services.
The Catholic Church in Qatar is overseen by the Apostolic Vicariate of Northern Arabia (AVONA), under Bishop Paul Hinder, a Swiss-born Capuchin friar with decades of experience in the region.
In a phone interview with The Pillar, Bishop Hinder said he had not detected much "football fever" among the local Christian community ahead of the month-long tournament that kicks off on Nov. 20.
"Of course, our community is interested, though when I was in Qatar a few weeks ago I didn't notice a special enthusiasm with the issue," he said. "Maybe now that the games are arriving that will change."
The lack of excitement is partly because "many of the Christians are from countries such as India, Bangladesh, Sri Lanka, Nepal, and Pakistan, which prefer cricket," the bishop said.
The Indian subcontinent is exceptional in that it has been largely unaffected by the passion for soccer that swept much of the planet in the 20th century.
Despite anti-Western feeling in many parts of the Muslim world, football continues to be as popular as ever. Iraq's Asian Cup win in 2007 managed to bring Shiites and Sunnis together, at least for one night, as they celebrated in the streets. Iran's ayatollahs, meanwhile, have not dared to lift a finger against the people's sport. Even Iranian women play the game, though they are rarely allowed into stadiums to watch their men's teams.
Qatari nationals are a minority in their own 2.9-million-strong country. They fall fourth on the list of most represented nationalities, behind Indians, Bangladeshis, and the Nepalese. In fifth place are Egyptians, the first on the list to come from what could be considered a proper soccer culture. But "the Pharaohs," as Egypt's national team is known, failed to qualify for the tournament, to the dismay of Egyptians, including Copts who say they face discrimination in the professional game.
This edition of the World Cup, which is played every four years, is the first to take place in a Muslim country and only the second staged outside of the Christian world, after South Korea and Japan shared the 2002 edition.
But the opaque way in which the tournament was awarded to Qatar and the country's lackluster human rights record have cooled many fans' enthusiasm.
As early as 2015, German Cardinal Rainer Woelki called for a boycott of Qatar, because of the working conditions of migrant workers in the country. Woelki lamented that year that foreign workers in Qatar are "humiliated and dehumanized," in workplace conditions which treat them "like animals."
Another German prelate, Bishop Stefan Oster, charged this week that "women continue to be held back in Qatar, while non-Islamic religions, including Christianity, are only granted limited freedom, and sexual minorities subjected to criminal prosecution. All of this expresses, not just from a Western viewpoint, a repressive state and social order."
Closer to Qatar, Bishop Hinder expressed a more nuanced approach on the World Cup – perhaps because of the limited religious freedoms extended to his Catholic flock in Qatar, where none of the 200,000 - 300,000 Catholics in the country are citizens of the country.
Bishop Hinder said he respects the tournament's critics and agreed that the decision to award the World Cup to Qatar was "questionable." But the bishop said he believes protests will have little effect on quelling spectatorship or effecting reform in Qatar.
"I doubt it will help very much. At the end of the day, people want to see football, and they are not always very consistent in their basic moral decisions," Hinder said.
"I can respect if somebody is boycotting the World Cup, but I would say that they shouldn't judge others who still have the pleasure of watching the games."
"Even if things were not 100% correct, we know that this is not the first time this happens. In earlier World Cups, things were not always done according to the ethical rules which should be respected."
Indeed, the last World Cup was held in 2018 in Russia — hardly a beacon of democracy and human rights — and the selection process was also accompanied by suspicion of bribes. The anger then, however, tended to focus more on FIFA, the sport's governing body, which fans everywhere love to hate, while Qatar itself has more recently been the subject of criticism.
The Qatar tournament has the added irritant of disrupting national league calendars, as the games will be played in November and December, rather than in June and July. But the major sticking points have been workers' rights and LGBT rights.
Qatar has a reputation for abysmal conditions for many of its migrant workers. Bishop Hinder acknowledged that reputation, while he said that in his view, there has been some improvement in recent years.
"We have to keep in mind that we are living in a part of the world where until only a few years back conditions were miserable, and they have improved but not yet in the measure we would all desire," he said.
"Looking back 60 or 70 years ago, conditions were not much better for migrant workers in European countries than they are here now. This is not an excuse, but it explains that sometimes these processes take time."
Pope Francis weighed in on the subject during his visit to neighboring Bahrain earlier this month, when he called for the strengthening of workers' rights.
Hinder said he supported the pope's advocacy for laborers.
"I think that what [the pope] said about human rights, and about how workers are treated, was a message that went far beyond our own Christian community," Hinder said. "I think it was well understood. He did it in a very diplomatic way, but people are not stupid. They understood."
Part of the outrage over conditions for workers stems from a report by Britain's Guardian newspaper, which said that around 6,500 workers had died in Qatar since the country was chosen to host the 2022 World Cup over a decade ago.
The article noted that this was the total figure for work-related deaths, while the number who died working on the stadiums was 37. That figure is still a comparatively high number, considering that two people died building the stadiums for the 2010 World Cup in South Africa and eight died working on the venues for the 2014 edition in Brazil. Twenty-one people died preparing the stadiums for the 2018 World Cup in Russia.
Bishop Hinder indicated that the local Church did not itself notice a surge in fatalities during the construction of Qatar's World Cup stadiums.
"I don't have reliable statistics from the parishes, but I don't think there was an extraordinary increase in funeral arrangements, for example," he said.
More general complaints about working conditions are another issue, on which the bishop said local opinion is divided.
"Regarding our people, at an economic level it was a step forward. It gave many people work, sometimes under questionable conditions. But it always depends on the type of work," he commented.
"There were people, also Christians, who had very decent work with no problems. Others had to do manual labor in the heat of the day, and of course for them it was different."
"I don't have statistics regarding payment, but we hear different things. Some say it is better than being back home. Others, of course, may suffer and say they are not paid on time, or enough. There are so many voices that it is difficult to have a clear picture."
Homosexuality is another sensitive topic at this World Cup. In recent years, the game in Europe and North America especially has adopted an activist posture, and many national soccer associations have made a point of protesting against Qatar's prohibition against homosexual behavior, with penalties up to execution.
FIFA has asked participating nations to avoid what it calls "political statements" that divert attention from the game itself, but some countries have found ways to air their views.
The players and staff of the United States men's national soccer team (USMNT) will be wearing shirts emblazoned with a rainbow-themed logo in their compound and at press conferences, and several team captains will sport "one love" rainbow armbands on the pitch. FIFA did, however, ban the Danish team from wearing a practice jersey saying "human rights for all."
Recent remarks by Qatar World Cup ambassador Khalid Salman ascribing homosexuality to "damage in the mind" did little to quell concerns.
While the Catholic Church teaches that homosexual acts are immoral, it also teaches that "every sign of unjust discrimination" against people who identify as gay "should be avoided."
Asked about this issue, Bishop Hinder said that he is concerned about how people who identify as gay are treated in Qatar.
"I understand that Qatar and other countries in the region have their own culture," he said. "What bothers me more is how these people are treated."
"Even if authorities do not accept this as a right, human beings have to be treated in a dignified way, and I hope that there will be progress in the coming years in this regard, and that we don't live in a society with life-threatening discrimination for human beings, whatever their sexual orientation."
He added: "We have this same problem in our own Church, which is still being discussed, but regarding the culture in this region, we should not forget that in some countries homosexuality is still subjected to the death penalty, and we cannot expect things to turn around 180 degrees in such a short time."
This month's tournament has some interesting religious subtexts.
Iran is a team to watch, and it would not be surprising if Iranians — either in the stands or on the pitch — tried to make some sort of gesture of support for the women who recently have been protesting across the country. Iran has been drawn in Group B, playing England on the second day of the tournament and the USMNT on Nov. 29.
Muslim Saudi Arabia could hardly have landed in a more Catholic group, squaring up to Argentina, Mexico, and Poland in Group C. It will take nothing short of a miracle for the Saudis to make it through to the knockout stage.
Bishop Hinder's native Switzerland is one of the 32 teams to have qualified. They will be playing in Group G against Cameroon and favorites Brazil, before facing Serbia in what is likely to be one of the competition's most ethnoreligiously charged games.
Three of Switzerland's top players are of Albanian Muslim extraction, with Granit Xhaka and Xherdan Shaqiri tracing their roots to Kosovo, an Albanian-majority region that broke away from Serbia after a war but which Serbians still see as the cradle of their Orthodox faith.
When Switzerland and Serbia met at the 2018 World Cup, the Swiss won the game in stoppage time, with goals scored by Xhaka and Shaqiri, who celebrated by forming the double-headed eagle — Albania's national symbol — with their hands, to the fury of Serbians.
But such matchups are not enough to draw Bishop Hinder, who will not be present in Qatar during the World Cup. He wasn't invited — but that is not something he begrudges, the bishop said.
"I have never been a football fan," he said. "I can enjoy myself with a group, and appreciate their excitement, but I have never been particularly attracted," he added.
"Of course, I have sufficient national pride that if Switzerland wins some games I will enjoy it. But otherwise if they lose, I won't be particularly sad."
📰
You're our business plan! 'The Pillar' relies on subscribers, and subscribers rely on us. If you know good journalism is worth paying for, subscribe today – or upgrade your subscription!
Comments