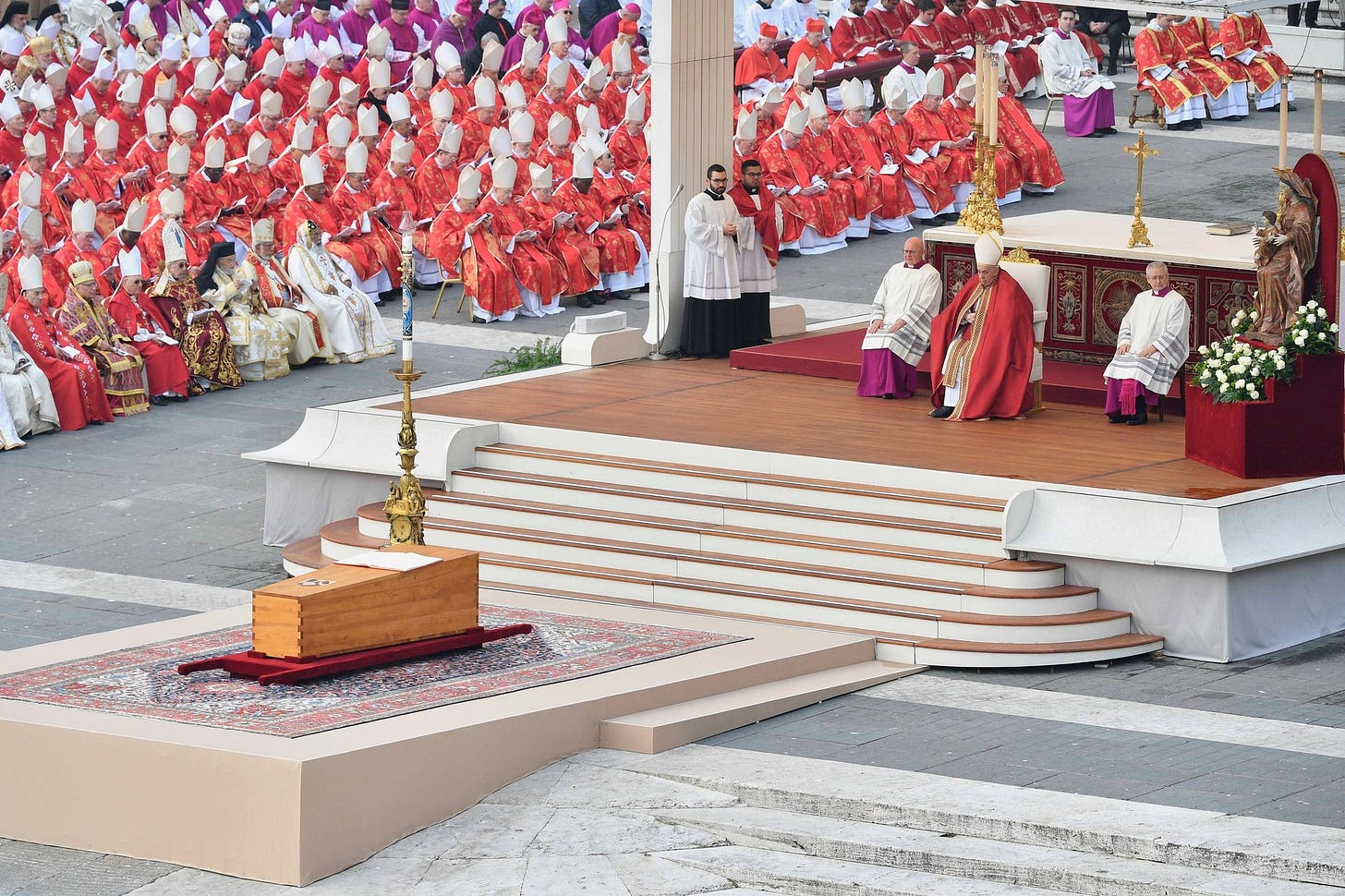 The funeral of Pope Benedict XVI began in a thick mist Thursday morning. While the gathered crowd struggled initially to get a clear view of the altar, it was also hard for some mourners to see clearly what kind of event the funeral was meant to be.
It had been several centuries since the Church had to arrange the final liturgy for a pope who had not died in office, and in the days following Benedict's death, the question of how to honor a "pope emeritus" had no clear consensus answer among liturgists, canonists, and Church watchers. The result was an occasion which is, perhaps, as open to interpretation and as hard to define as the status Benedict tried to carve out for himself in retirement.
Some of the pope emeritus' most loyal supporters wanted full papal honors for Benedict, pointing out that he was no less a pope for having spent his final decade in retirement after renouncing the office in 2013, and questioning any departures from the papal liturgical norm.
Others noted that Benedict may have been a pope, but he wasn't one at the time of his death, nor was he reigning head of state. And as such, much of the pomp and circumstance accorded to those who died in office must be scaled back.
Although the event was well attended, with a large crowd in St. Peter's square, it was not a public holiday in Vatican City, either — meaning that while many of their bosses were visible among the concelebrants, curial staff and city-state employees effectively had to ask for time off to attend, even if permission was given by standing order.
Apart from these considerations were the wishes of Benedict himself, who, the Vatican had let it be known, requested a simple event. And, of course, unlike any of his recent predecessors, Benedict's final liturgy was presided over by his successor, Pope Francis, who would have had his own input into the plans.
The result was that the funeral became, at least ahead of the event, something of an ecclesiastical Rorschach test.
Many of those who loved Benedict as a scholar, a theologian, a teacher, and a pope, were sensitive to any appearance that he wasn't being given his due for the part he played serving the Church for so many decades. And many of his critics, including members of the media, seemed primed to interpret tributes to Benedict's time in office as implied criticisms of Francis.
After the funeral, both sides of that divide will probably find fodder to feed their points of view.
Prominent absences among the College of Cardinals will likely be noted and interpreted as slights against Benedict's memory, and Francis' brief and somewhat boilerplate homily will probably be compared unflatteringly to the then-Cardinal Ratzinger's own barnstorming oration at the funeral of St. John Paul II.
Meanwhile, some commentators will, no doubt, decry these comparisons as "anti-Francis" and scour personal testimonies to the pope emeritus by "conservative" bishops for signs of coded disloyalty.
The size of the crowd that gathered in front of St. Peter's will also be a subject of contention. The square was full, but far from packed — official estimates are around 50,000 mourners.
Critics of Benedict will offer snide comparisons to previous papal send offs. His supporters will insist that the turnout beat both expectations and a soft but concerted effort to mute the occasion's significance and keep numbers low. They will also point to the spontaneous applause, and cheers of "Santo subito!" as his coffin was carried into the basilica as proof of the deep and abiding esteem of Catholics for Benedict.
Somewhere in between these competing narratives is the truth, probably shaped less by partisanship and more by the simple reality that a pope emeritus isn't the same thing as a pope, and that difference was played out Thursday morning.
Benedict's funeral was an historical moment, but it was not a world event. While the Vatican diplomatic corps was out in force, heads of state largely stayed away. The bells of St. Peter's tolled, but the clocks didn't stop.
In the end, the cloudiness about what to make of Benedict's funeral, the arrangements, the attendance, and the tone of the occasion, is the logical conclusion of his status as a former pope living at the bottom of the Vatican gardens while his successor carried on the leadership of the Church.
While Benedict was certainly out of office and out of the way, even as he became more frail and stopped making even the few public interventions he allowed himself, he was neither ever truly forgotten or gone.
The result was a kind of long goodbye. After the shock of his resignation and the excitement of Francis' election, Benedict's decade as pope emeritus became a kind of slow fading from relevance to daily Church affairs, which in turn seemed to have drained the sense of immediacy when he finally departed this life on New Year's Eve. It was the death of a particular person, not of the pope.
Thursday's liturgy marked Benedict the man's passing from life, rather than a former pope's final passing from the office he once held, and that has colored how many experienced the event. While it may have struck many as an imperfect, even unsettled affair, it may also have been inevitable.
Comments