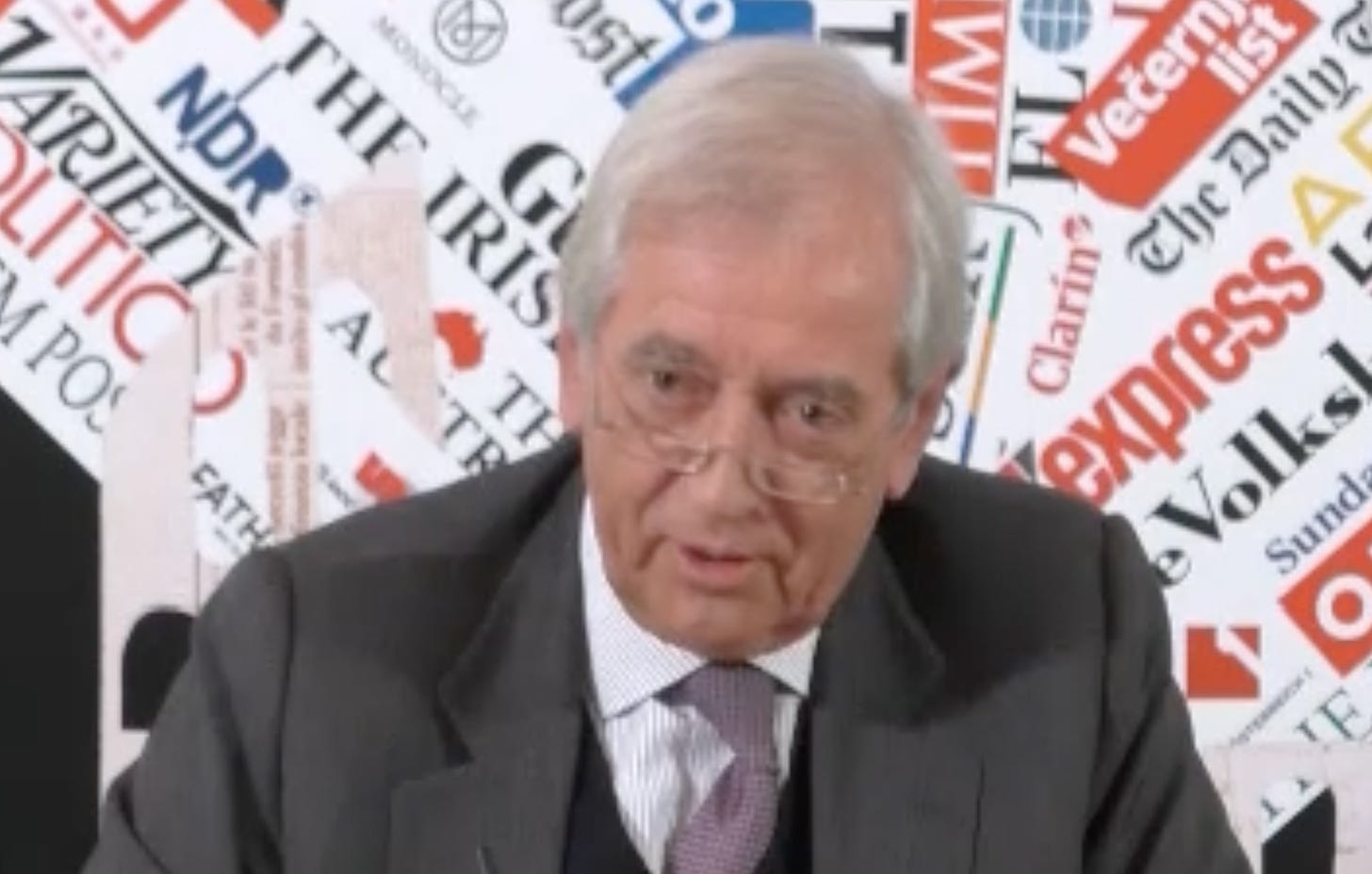 The Holy See's former auditor general says he is facing criminal prosecution in the Vatican, which is intended to block his lawsuit for wrongful dismissal against the Vatican's Secretariat of State.
Libero Milone, the Vatican's financial auditor from 2015 until 2017, said he is now facing an "Orwellian" process trying to clear his name in Vatican City.
The former editor told press on Thursday that he and his former deputy met with Vatican City prosecutors for hours this week.
Milone said that interrogations lasted for more than six hours on Nov. 14, well into the night. He added that prosecutors did not allow him or his former deputy access to the official files which were used to force their departure in 2017, but instead repeated allegations that the auditors used their office to "spy" on the senior curial officials whose departments they were charged with auditing.
At a press conference in Rome Thursday, Milone said that he and his former deputy had been forced from their jobs because their auditing work could not be "controlled" by senior Churchmen, and had made leaders like Cardinal Angelo Becciu "uncomfortable."
Milone described his meeting Monday with Alessandro Diddi, the Vatican prosecutor leading the case against Becciu and others in Vatican City court, as "stressful."
Speaking to The Pillar by telephone, Milone described the meetings as an "interrogation."
"He would ask me a question, and as I answered, he would constantly interrupt. I got to the point of saying, 'Look, if you ask me a question, I have to be able to answer it. Otherwise don't ask me the question.'"
"But, you know, it was as if he was trying to get an answer which suited his thoughts."
"They will continue on this route," Milone said of the Vatican's Office of the Promoter of Justice. "They will send us to trial, there is no way out of that, because they have to find a way to show they are 'winners'."
The Promoter of Justice's Office could not be reached for comment.
Milone, the first person to hold the position of Vatican auditor general, filed suit Nov. 4 against the Vatican's Secretariat of State and the Office of Auditor General, claiming he was unjustly fired and unfairly threatened with criminal prosecution, because of discoveries he made while doing his job.
He and Ferruccio Panicco, his former deputy, are seeking more than 9 million euros in compensation for lost earnings and damages, including 3.5 million euros Panicco is seeking in material damages for the seizure of personal medical records from his Vatican office which, he says, led to a year-long delay in his diagnosis and treatment for prostate cancer.
At the time of Milone's dismissal, Cardinal Angelo Becciu, then the sostituto at the Secretariat of State, said the former senior Deloitte executive had been "spying" on the private finances of senior curial figures, including Becciu himself and would have been prosecuted had he not resigned.
Unable to resume their careers elsewhere because of the public allegations against them, Milone said that he and Ferruccio Panicco, his former deputy, have spent the last five years trying to reach a settlement with the Vatican following their ouster.
📰
'The Pillar' covers news you won't read anywhere else. We do it intelligently and reliably, because our subscribers know good journalism is worth paying for. So subscribe today – or upgrade your subscription!
Specifically, the former auditor asked the Vatican for access to the files of a seven month Vatican City police investigation supposedly conducted against his office as Auditor General in 2016-17 so he could show allegations of "espionage" were "ridiculous." Instead, he was repeatedly told the police report had been classified as a state secret.
That stalled process began to move earlier this year, Milone said, when in February he presented the Secretary of State, Cardinal Pietro Parolin, with a draft of a legal claim to be filed in Vatican court.
"Suddenly, the pontifical secret was lifted," Milone recalled this week. But instead of the files being handed over to the former auditor, he was informed that prosecutors were taking a new look at the case against him — something Milone says was intended to warn him off suing in Vatican court.
When Milone and his former deputy did file their claims for wrongful dismissal earlier this month, he said he faced an initial meeting with prosecutors in which they informed him they were reopening the case against them.
Speaking after a second encounter with Diddi on Monday, Milone said he believes the prosecutor's renewed interest in his case was meant to block his lawsuit for wrongful dismissal from coming to court.
"This criminal [process] will hold off my claim, because criminal cases are more important than civil offenses. So the court would give priority to the criminal one," he said.
In either event, Milone says that although his office and official files were all seized in Vatican City in 2017, he still has access to records he kept at his home during his tenure as auditor general, files which will exonerate his from the accusation of spying and which demonstrate a culture of financial corruption at the Vatican, including among senior cardinals and curial officials.
During his press conference on Thursday, his second media event since filing his claim in Vatican court, Milone said he could prove personal acts of embezzlement by cardinals, and the use of Vatican institutions like the city state's governing apparatus and the Bambino Jesu hospital for money laundering.
Milone has said he does not intend to "name names" unless and until he is forced to go to court to clear his name. In the meantime, he told journalists on Thursday, his treatment by the Vatican was evidence of a clericalist culture at the top of the curia.
"They think they are always right, these priests. They don't understand that they can be wrong," Milone said at the press conference on Thursday. "Perhaps it's time they learned that."
The circumstances of Milone's departure have also featured in the ongoing Vatican financial scandal trial, with Cardinal Angelo Becciu telling the court that the decision to dismiss Milone was taken by Pope Francis personally, after the pope "lost confidence" in the auditor.
Becciu, who was forced to resign his curial positions and rights as a cardinal in September, 2020, has repeatedly insisted that Milone exceeded his mandate as auditor by attempting to examine the finances of his former department, the Secretariat of State, which Becciu claims was exempt from oversight.
Milone has produced Vatican documents listing the Secretariat of State as under his office's purview and said Becciu was the leader of a concerted effort to force him from office because of his success in uncovering corrupt dealings at the secretariat.
Pope Francis has previously indicated he authorized Milone's dismissal. In his annual Advent address to the Roman curia in 2017, the pope made a lengthy digression in which he spoke about "persons carefully selected to give a greater vigour to the body and to the reform, but – failing to understand the lofty nature of their responsibility – let themselves be corrupted by ambition or vainglory."
In what was widely understood to be a reference to Milone, Pope Francis lamented that "when they are quietly sidelined, they wrongly declare themselves martyrs of the system, of a 'pope kept in the dark,' of the 'old guard'…, rather than reciting a mea culpa."
Milone says that when he began in his role in 2015, he met regularly in person with the pope, who took a keen interest in his work and responded forcefully when presented with evidence of misconduct by Vatican officials.
But, the auditor says, for a year prior to his being forced from office, he was blocked from meeting with Francis, and his reports on corrupt practices no longer received a papal response.
Comments